19 · 06 · 2023
LAMPA 2023: A Nordic and Baltic discussion on the topic of food waste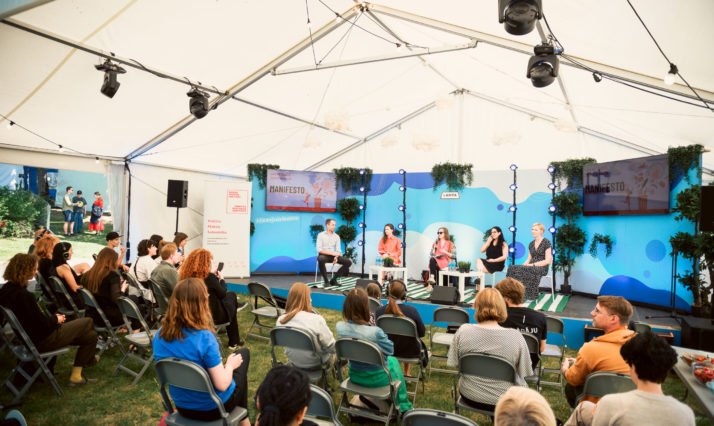 Inspired by our recently published food waste manifesto 'Great Taste – Zero Waste Manifesto', we brought the topic of food waste to this year's LAMPA Conversational Festival.
Raising awareness about food waste has been relevant for some time. It may seem surprising, but every year up to 26% of food waste is generated by the catering industry. As a result, many restaurants and caterers are looking for solutions to reduce food waste and use resources efficiently. This time we looked for answers and solutions together with HoReCa representatives and sustainability experts.
A team of sustainability experts alongside representatives of SIA ZAAO and EIT Food led a very important discussion on the topic of waste management as well as future food waste technologies and strategies. Sharing valuable tips for consumers on how to notice zero waste strategies incorporated by a restaurant (i.e. doggy bags, regulated portion sizes, a zero waste communication strategy etc.). And highlighting the importance of cooperation within the food sector as a whole – from farm to table.
Afterwards it was time for our zero-waste workshop. Embracing the importance of the guests' viewpoint on sustainability within professional kitchens. During the workshop the participants were introduced to the guidelines of the Great Taste – Zero Waste Manifesto and discovered how the sustainability strategy of restaurants and other food service providers affects the guest experience – what are the changes and benefits?
By participating in a creative poster-making workshop, the participants were able to discuss the Manifesto guidelines and their impact on the consumer. The participants were divided into groups and agreed to present one of the guidelines in an engaging poster or slogan. Resulting in them addressing the topic of food waste in professional kitchens from a consumers perspective and encouraging collaborations between both HoReCa representatives and guests. We are very thankful to the dedicated participants sharing their thoughts and ideas for future solutions.
𝗜𝘁 𝗰𝗼𝗺𝗲𝘀 𝘁𝗼 𝘀𝗵𝗼𝘄 𝘁𝗵𝗮𝘁 𝘁𝗼𝗴𝗲𝘁𝗵𝗲𝗿 𝘄𝗲 𝗰𝗮𝗻 𝗺𝗮𝗸𝗲 𝗮 𝗱𝗶𝗳𝗳𝗲𝗿𝗲𝗻𝗰𝗲!
A big thank you to our partners: Embassy of Denmark in Latvia, Embassy of Sweden in Riga, Norwegian Embassy in Riga, Suomen suurlähetystö Riika – Embassy of Finland in Riga, The Nordic Council of Ministers and The Nordic Council and EIT Food.