02 · 05 · 2023
The Great Taste Zero Waste Manifesto: A Practical Guide to Reduce Food Waste in the HoReCa Sector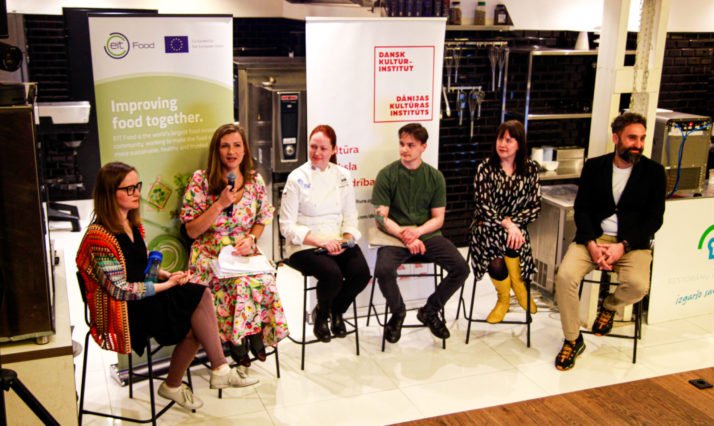 Great Taste – Zero Waste Manifesto is a result of an almost yearlong collaboration between sustainability experts and kitchen professionals from 7 Baltic Sea Region countries. Experts have been working together on creating a toolkit containing guidelines and detailed tips for the HoReCa sector to prevent food waste.
While tackling the food waste issues may seem a topic of environment and climate, the attitude towards food and actions towards food waste is indeed connected to the society and culture, we live in. Especially considering that more than 8% of European citizens cannot afford a proper meal every second day. 
Last week on April 20th 2023, the Great Taste – Zero Waste Manifesto was launched and presented in a hybrid event to a local and international audience. The event took place at the Restaurant Service School in Riga. 
The Great Taste – Zero Waste Manifesto launch event brought together experts and kitchen professionals from across the Baltic Sea region to share their knowledge and findings on food waste reduction. Inga Belousa, an expert in sustainable development education from the Latvian NGO Green Liberty, stressed the importance of using available resources more effectively to improve food availability and security worldwide.  
Addressing food waste in the HoReCa sector

Mette Schellerup Gotfredsen and Paula Capodistria, members of the project team, presented striking statistics that 26% of all food waste produced globally comes from the HoReCa sector. They explained that the main causes of food waste in kitchens are improper planning and a lack of knowledge. To address this, the Great Taste – Zero Waste Manifesto team provided 10 guidelines on how to reduce food waste in professional kitchens.  
Filip Lundin and Katarzyna Młynarczyk shared exciting examples from their practices at Sopköoket and ReBread, respectively, as they explained the main guidelines. They emphasized that great taste should still be the priority.  
During an insightful panel discussion, Elina Kolate, Jakub Malec, and Stella Kurik joined local chefs Svetlana Riskova and Nils Gevele to share their experiences and practical tips for implementing sustainable practices in kitchens. Svetlana Riskova emphasized the importance of clear and simple instructions for communicating the zero waste strategy with the team, while Nils Gevele highlighted the creative process of experimenting with new ways to use products to their maximum potential. All experts agreed on the importance of seeking inspiration and exchanging ideas with colleagues in the industry. 
The Great Taste – Zero Waste Manifesto is an important step towards addressing waste in the food industry because it provides specific and actionable guidelines for reducing food waste in professional kitchens. By providing tailored tips and guidelines for different types of businesses, the Manifesto can help restaurants, hotels, takeaways, canteens, and caterings to better plan and manage their food inventory, use ingredients more efficiently, and reduce waste throughout the entire food supply chain. 
Watch Filip Lundin and Katarzyna Młynarczyk present the 10 main guidelines:
The Great Taste – Zero Waste Manifesto not only provides practical tools for businesses to reduce food waste, but it also has social and cultural benefits.
The Manifesto promotes a more sustainable attitude towards food and consumption, which can help shift societal values towards a more environmentally conscious and responsible culture. By raising awareness of the issue of food waste and providing actionable guidelines, the Manifesto can inspire individuals and businesses to think more critically about their food choices and consumption patterns and encourage them to adopt more sustainable practices in their daily lives. 
Overall, the Great Taste – Zero Waste Manifesto provides an important framework and practical tools for businesses to make positive changes towards reducing food waste, which is crucial for the sustainability of the food industry and the planet. 
Our sincere gratitude goes  to all the experts who have contributed their time, knowledge, and expertise to the development of the Great Taste Zero Waste Manifesto: Mette Schellerup Gotfredsen, Paula Capodistria, Filip Lundin, Jakub Malec, Katarzyna Młynarczyk, Stella Kurik, Elīna Kolāte and Aida Čepukaite. 
The project is developed by Danish Cultural Institute in Estonia, Latvia and Lithuania and EIT Food with support of Embassy of Denmark, Embassy of Norway and Embassy of Sweden and funded by The Nordic Council of Ministers and The Nordic Council and Nordic Councils of Ministers in Latvia. 
Dive deeper into the Manifesto here!