21 · 09 · 2023
BSR Action Plan for Cultural and Social Resilience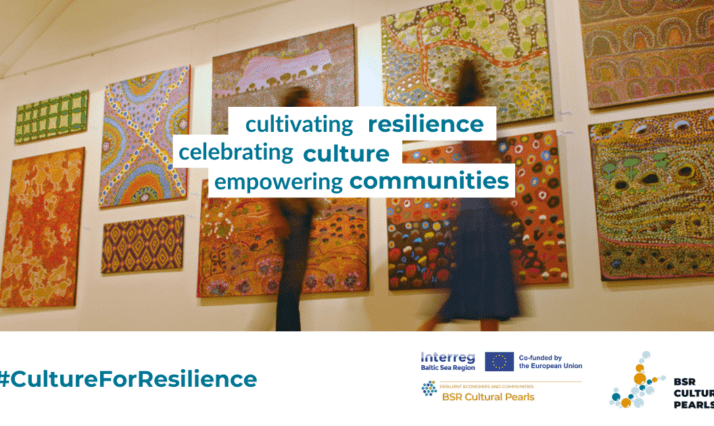 Baltic Sea Region municipalities working on culture-driven resilience plans
The Danish Cultural Institute is one of the partners in the project "Baltic Sea Region Cultural Pearls for more resilient cities and regions" co-financed by the Interreg BSR program. The aim of the project is to strengthen the capacity of cities, towns, and municipalities to increase social resilience through culture by helping them to work with their communities to increase the quality of life, attractiveness, and well-being while strengthening their international profile and visibility.
Competing candidates
Annually, four candidates – each from a different Baltic Sea Region country, will be awarded the title of BSR Cultural Pearl by an international jury.
For the inaugural "BSR Cultural Pearls" title, applications have been received from a total of 12 municipalities across the Baltic Sea Region: Cēsis (Latvia), Druskininkai (Lithuania), Härnösand (Sweden), Helsingborg (Sweden), Hiiumaa (Estonia), Jakobstad (Finland), Kiel (Germany), Kristinestad (Finland), Närpes (Finland), Nykarleby (Finland), Rūjiena (Latvia), Svendborg (Denmark).
Working with culture and resilience
After pre-selection, all twelve municipalities that applied for the title are qualified for the next step, which is the development of a Cultural & Resilience Action Plan (CuReAP). This phase runs from 25 October 2023 to 16 November 2023.
During this time, candidates will develop an action plan focused on culture-driven social resilience. They will receive support from a national mentor and expert webinars and access to a catalogue of good practices. This catalogue offers insights and knowledge on strengthening social resilience, fostering a sense of community and belonging, and enhancing resistance to future shocks using cultural tools.
The four candidates who have submitted the most convincing action plans will then be awarded the title of BSR Cultural Pearl 2024 by an international jury. The final announcements are due in December 2023.
Our role
The Danish Cultural Institute's role in the project is to support the outreach and promotion of the BSR Cultural Pearls award and foster the transnational exchange and visits between awarded cities/regions and partners by offering facilitated digital exchanges or study visits between the Pearls and regional partners.
The 3.5M euro project is running for a period of three years until December 2025 and is funded by the Interreg Baltic Sea Region program.
For more details about the BSR Cultural Pearls project and award title, visit www.culturalpearls.eu.