01 · 12 · 2022
Brothers & Sisters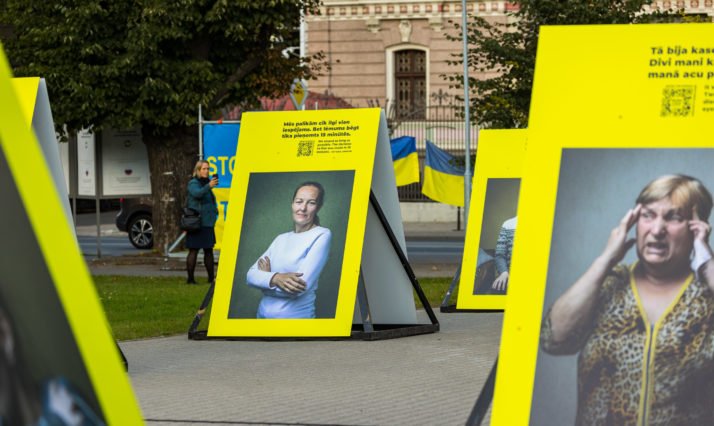 The night of February 24th, 2022 Ukraine got invaded by Russia. Since then millions of Ukrainians has fled their hometowns. The estimated number of refugees who has left Ukraine is 5 million people primarily women, children and elderly.
But it's difficult to conceptualize the statistics of the Ukrainian refugees in a meaningful way. In times of war human experiences and human lives are reduced to numbers and it's impossible to comprehend the idea of 5 million people on the go – this is also 5 million individuals, 5 million destinies, 5 million who is someones mothers, daughters, sons, partners and friends.
Even though art is one of the things that are least prioritized in times of war, art can still plays an important role. It can be used as a tool to understand the incomprehensible. To tell these peoples stories. It can inspire hope, give a voice to people and communicate and convey feelings at a deeper level. This photographic art project aims to bring art onto the grounds of Ukraine, even though the war continues.
In the spring of 2022, Danish Photographer Martin Thaulow travelled along the border between Poland and Ukraine to photograph the journey of the Ukrainian refugees. A journey full of loss and concerns – but also a journey fueled by hope!
Later in the summer he travelled through Latvia to visit NGO's and welcome centers to meet the people, whose lives has been turned upside down due to Russia's invasion of Ukraine. These encounters resulted in several portraits and interviews that has become the basis of the "Brothers & Sisters" exhibition.
The exhibition aims to tell the stories of the Ukrainian refugees to the publica. The portraits are equipped with QR codes that audiences can scan and read the stories of the portrayed.
The aim of this exhibition is to create a fundament for an informed and positive debate about the consequences of Russia's invasion. It seeks to strengthen solidarity, raise dialogue, and allow us to meet our fleeing 'brothers and sisters' in eyelevel as individual human beings.
Brothers & Sisters exhibition opening in Riga