01 · 12 · 2022
Voices of Violence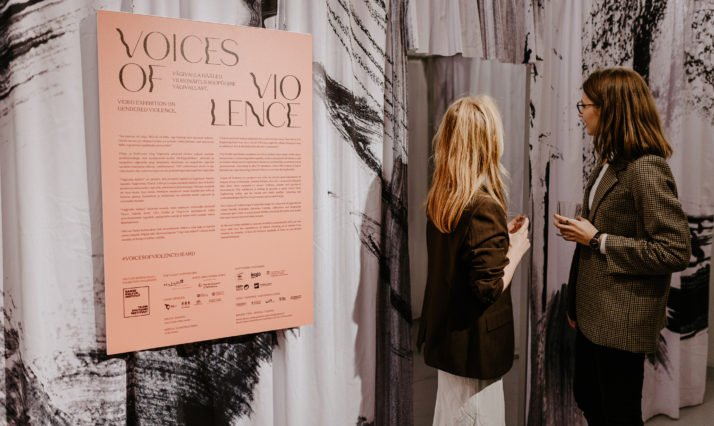 In 2020, the Danish Cultural Institute launched Voices of Violence, a project on violence and sexism perpetuated against women. Voices of Violence focuses on the importance of spaces and platforms where women can voice their stories and experiences. The project connects with the insights and perspectives generated by the #metoo movement which has continued to gain in importance since 2017.
The Nordic and Baltic countries as well as Belarus face many of the same issues when it comes to gender equality, sexism and gendered violence, and no matter where you live gendered violence is, undeniably, a common social phenomenon.
Voices of Violence is a project that tells the stories and experiences of women living in Denmark, Iceland, Belarus, Estonia, Latvia, and Lithuania who have been exposed to sexual violence, sexism and gendered harassment. The exhibition is aiming to provide a space where their frightening reality can be voiced and made audible. Listening and understanding is the first step towards action and change.
The exhibition consists of short videos where Nordic, Estonian, Latvian, Lithuanian and Belarussian actors read real anonymous stories of sexism and sexual violence. The Voices of Violence space takes the shape of a labyrinth of experiences where Danish, Icelandic, Estonian, Latvian, Lithuanian and Belarusian actresses give voice to anonymous stories, revealing the scars and marks the experiences leave on many women. At the end of the exhibition, you are invited to anonymously tell your own story and read the experiences of others. Growing as it travels from country to country, Voices of Violence reminds us that no one should remain silenced
The exhibitions have until now travelled around the three Baltic states as well as online in Belarus where it has been exhibited in connection with major festivals in each of the countries. Here, the exhibition has not only given voice to the stories contained in the videos but has also provide a platform for audience members to tell their own stories. Importantly, the exhibition has until now also provide a framework for a series of public events with Nordic female writers and activists. The Nordic literary artists and activists has visited the four countries and, the exhibition has been used as a starting point and source of knowledge and input to discuss issues of gender, art, sexism, and sexual violence. They have read from their works as well as engaged reflectively with Baltic and Belarusian feminist activists, associations, writers and/or other cultural actors.
On the 10th of November 2022 the exhibition opened in Tartu, Estonia. The exhibition opened as part of the interdisciplinary art festival "Crazy Tartu" with a talk on how culture and art can be used as a medium to address issues such as violence against women that can be though to talk about or even taboo.
All in all, the project works to facilitate reflection, discussion, and dialogue on a prevailing and problematic culture of gender inequality which is shared across borders. The transnational nature of the problem engenders the need to tackle these issues together, sharing knowledge and experiences and discussing possible future solutions.
The exhibitions is also available online where you can watch the testimonies and submit your own story.
Listen to one of the testimonies below – and find the whole online exhibition, here
Please note, that the content can be triggering.
Voices of Violence opening in Kogo Gallery, Tartu