23 · 11 · 2017
Writers without borders: Rakstnieki bez robežām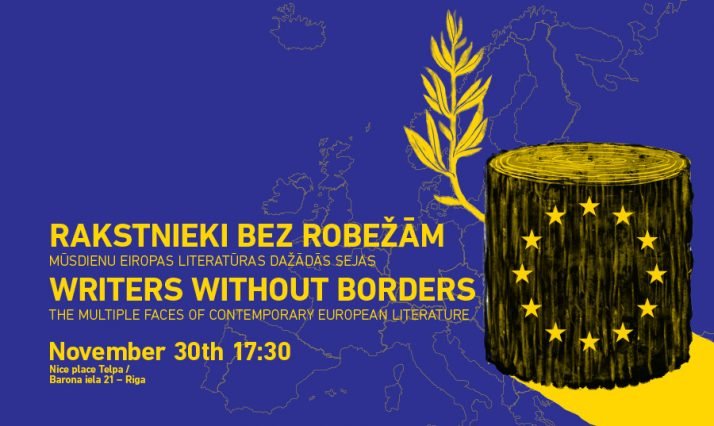 WRITERS WITHOUT BORDERS
THE MULTIPLE FACES OF CONTEMPORARY EUROPEAN LITERATURE
Date:  30.11.17                        Time: 17.30                               Place: Nice Place, Riga
English:
An inspiring literary event which invites Latvian audience to meet five exciting European writers with a bicultural background! On the 30th of November, starting from 17.30, in Riga (in Nice place telpa), Geeti Amiri (DK), Mike Collier (UK), Zinaida Lindén (FI), Abbas Khider (DE) and Emmanuel Vilsaint (FR) will share their stories and experiences and will answer to the public's questions. This event is organized by the network of European Union National Institutes for Culture (EUNIC) in Latvia together with the Festival Prozas Lasijumi and with the support of the European Commission
representation in Latvia. Dedicated to literature, Writers without borders brings to Latvia five European authors with a migration background – either because they have migrated themselves or because they belong to a family with different roots from the country they live in – and who therefore deal with biculturalism. To dive deeper into their stories and to understand how this twofold cultural identity influences their works, EUNIC-Latvia, in cooperation with the literary Festival Prozas Lasijumi, invites every one interested in Literature and, more widely, curious people to a series of discussions. Hosted by the renowned journalist, Ansis Bogustovs, these discussions will give us an insight into the personal and professional journeys of these writers. It will be a unique opportunity to discover their writing process and to discuss what their bicultural identity means to them.
Who is EUNIC-Latvia? British Council / Danish Cultural Institute / Goethe-Institut / French Institute / Latvian Institute / Nordic Council
What is EUNIC Latvia doing? The EUNIC network works at building trust and understanding between the peoples of Europe and the rest of the world through culture. It brings unique European arts & culture in Latvia.
Latvian:
RAKSTNIEKI BEZ ROBEŽĀM
EIROPAS MŪSDIENU LITERATŪRAS DAŽĀDĀS SEJAS
Iedvesmojošs literatūras notikums, kurā Latvijas iedzīvotāji aicināti iepazīties ar pieciem interesantiem Eiropas rakstniekiem, kuri dzīvo divkultūru vidē. 30. novembrī no plkst. 17.30 Rīgā, NicePlace TELPĀ ar saviem stāstiem dalīsies, kā arī uz klausītāju jautājumiem atbildēs Giti Amiri (Geeti Amiri, Dānija), Maiks Koljērs (Mike Collier, Lielbritānija), Zinaīda Lindena (Zinaida Lindén, Somija), Abāss Hiders (Abbas Khider, Vācija) un Emanuels Vilsēns (Emmanuel Vilsaint, Francija). Šo pasākumu organizē Eiropas Savienības Nacionālo Kultūras institūtu apvienība (European Union National Institutes for Culture (EUNIC)) Latvijā un festivāls "Prozas lasījumi" ar Eiropas Komisijas pārstāvniecības Latvijā atbalstu. Literātu apvienība "Rakstnieki bez robežām" (Writers without borders) uz Latviju ir uzaicinājusi piecus Eiropas autorus, kuri ir saistīti ar migrāciju – vai nu paši būdami migranti, vai arī nākuši no ģimenes, kurai ir no mītnes valsts atšķirīgas kultūras saknes – un tāpēc ir saskārušies ar divkultūru pieredzi.
Lai ieskatītos dziļāk viņu stāstos un izprastu, kā šī divkultūru identitāte ietekmē viņu darbus, EUNIC-Latvija sadarbībā ar festivālu "Prozas lasījumi" uz šo diskusiju sēriju aicina ikvienu, kurš interesējas par literatūru, kā arī jebkuru citu interesentu.
Diskusijas pazīstamā žurnālista Anša Bogustova vadībā sniegs ieskatu šo rakstnieku personīgajās un profesionālajās gaitās. Tā būs unikāla iespēja iepazīt viņu radošo procesu, iepazīties ar viņu daiļdarbu fragmentiem un noskaidrot, ko divkultūru identitāte nozīmē viņiem pašiem.
Kas ir EUNIC-Latvija? Britu padome / Dānijas Kultūras institūts / Gētes institūts / Francijas institūts / Latvijas institūts / Ziemeļu Ministru padomes birojs
Ko EUNIC-Latvija dara? EUNIC tīkls strādā, lai ar kultūras palīdzību veidotu uzticību un izpratni Eiropas tautu un pārējo zemju starpā. Tas Latvijai dod iespēju iepazīt unikālus Eiropas mākslas un kultūras darbus.
If you have any questions, you are welcome to contact us.
Danish Cultural Institute
T: +371 67288221