15 · 10 · 2021
Voices of Violence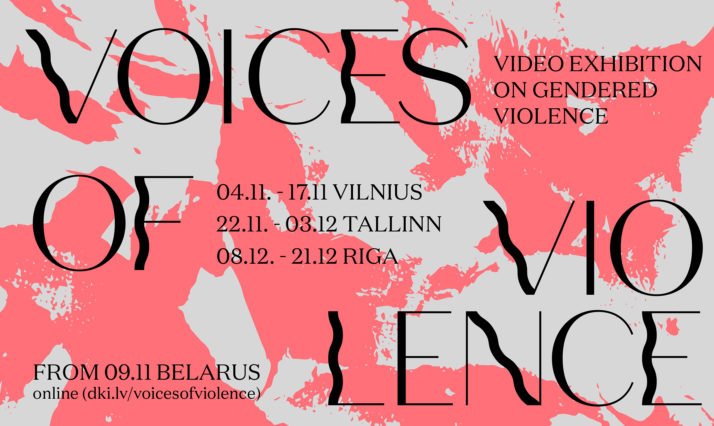 The Danish Cultural Institute is launching Voices of Violence, a project focussing on violence and sexism perpetuated against women. The project will focus on the importance of spaces and platforms where women can voice their stories and experiences. Voices of Violence will connect generally with the insights and perspectives generated by the #metoo movement which has continued to gain in importance since 2017.
#metoo deals with female experiences of sexual violence and harassment, and this focus will form the core of a video exhibition which will be developed in connection with the project. The exhibition combines 35 short videos where Belarussian, Estonian, Latvian, Lithuanian, Icelandic and Danish actresses read real anonymous stories of sexism and sexual violence. The exhibition will not only give voice to the stories contained in the videos but will also provide a platform for audience members to tell their own stories anonymously.
It will travel to Lithuania, Estonia and Latvia as well as Belarus where it will be exhibited in connection with major festivals in each of the countries. In Belarus the exhibition will take place online.
The exhibition will also provide a framework for a series of public events – opening discussion – with Nordic female writers and activists. The Nordic literary artists and activists will use the exhibition as a starting point and source of knowledge and input to discuss issues of gender, art, sexism, and sexual violence. They will engage reflectively with Baltic and Belarusian feminist activists, associations, writers and/or other cultural actors.
Additionally through exchange and dialogue with Estonian, Latvian, Lithuanian and Belarusian feminist activists and cultural actors, the project also works to challenge and renew Nordic literary art. It promotes prominent Nordic female writers and activists and their work with sexism and violence, thereby exposing the power and strong traditions of Nordic feminist culture to a Baltic and Belarusian audience. Such exposure when linked with mutually beneficial and inspiring discussions and reflections on the issues of gender equality, sexism, gendered violence, female perspectives, and art creates important moments of intercultural dialogue
4.11 – 17.11 Vilnius, at Martynas Mazvydas National Library of Lithuania, in connection with Scanorama Film festival in Lithuania

Opening discussion Friday, 5.11.

22.11 – 3.12 Tallinn, at Solaris Centre – a modern combination of a shopping mall and a cultural centre, showcased in connection to the Black Nights Film Festival (POFF)

Opening discussion Tuesday, 23.11

8.12 – 21.12 Riga, at the National Library of Latvia

Opening discussion Wednesday, 8.12.

From 9.11 the exhibition will be available to viewers in Belarus and start it's life online. The exhibition and opening discussion on the 9.11. will be will be part of the Human Constanta organization's 'Week of Educational Action against Discrimination and Hatred'.
The exhibition is aiming to provide space where this frightening reality of gendered violence can be voiced and made audible. Listening and understanding is the first step towards action and change!
The project is developed in close cooperation with the Nordic Council of Ministers' Offices in Estonia, Latvia and Lithuania, Black Night Stars Film Festival, Scanorama Film festival, Norden Lights Film festival, MARTA center, Womans Issues Information Center, Feministeerium, Kvennaathvarf, Metafilm, Latvian Academy of Culture, WIFT Iceland, ProRent, Martynas Mažvydas National Library of Lithuania, Solaris, as well with help of the the Embassy of Denmark in Estonia and the Embassy of Denmark in Lithuania. Project is supported by the Agency for Culture and Palaces (SLKS) and Nordic Council of Ministers' Offices in Estonia, Latvia and Lithuania.
Exhibition design: Zane Priede
Graphic design: Rūta Jumīte