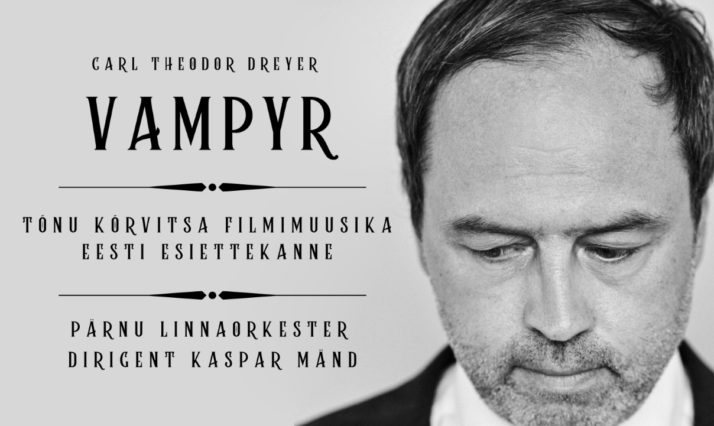 The legendary Danish film 'Vampyr' is getting revived in Estonia!
The Danish renowned classic film director Carl Theodor Dreyer is recognized world-wide for his work. His movies are often characterized by emotional, slow, and elegant pacing. The themes of his movies often center around social intolerance, the inescapability of fate and death, and the power of evil in earthly life. Dreyer's take on film directing was so to speak perfect for making a film about a vampire, and so he did.
In 1932 the horror film 'Vampyr', directed by Dreyer, were released. Originally opening to criticism, the film was long considered a low point in Dreyer's career. Modern critical reception, however, has become much more favorable with critics now praising the film's disorienting visual effects and atmosphere.
Atmosphere is exactly what the The Pärnu City Orchestra will provide for the screening of the film 'Vampyr' three times in the upcoming weeks. The orchestra was established in 1994 and has since then been involved in staging various music plays and operas.
Music for the film was commissioned by the The Norman Philharmonic, France for the Estonian composer Tõnu Kõrvits which debuted in 2015.
The Pärnu city orchestra will perform the music in parallel with the film for its 3 screenings. The orchestra's grandiose abilities will no doubt suit the films emotional and elegant pacing which will make for quite the experience. The event sees Estonian music and Danish film history intertwine perfectly- and the whole thing can be experienced on the
31st of October at the Estonian National Museum in Tartu at 19.00
1st of November at the Pärnu Concert in Pärnu at 19.00
And
13th of November at the Kumu Art Museum in Tallinn at 19.00 as a part of the famous Tallinn Black Nights Film Festival.
You can buy your tickets here or read more about it and the orchestra at their Facebook page.