08 · 02 · 2023
Travelling Democracy Lab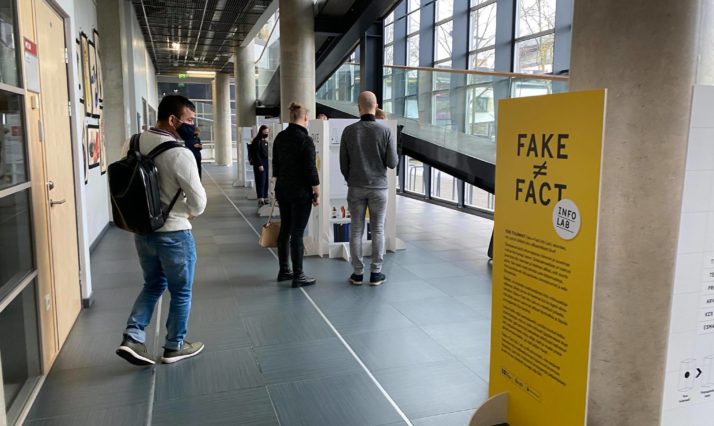 "Fake ≠ Fact Info Lab" is centered around the translation, production and showcasing of the The Travelling Democracy "Fake ≠ Fact Info Lab" exhibition as well as workshops with Nordic and local experts in cities around Estonia, Latvia and  Lithuania and digitally in Ukraine and Belarus.
The open flow of information has huge democratic potential as democracy is based on the citizens' right to seek and impart information. Meanwhile, the unlimited – and unedited – "digital ocean of information" also contains "polluted" ingredients, including rumors, disinformation and even anti-democratic and violent content.
The main goal of this educational project was to provide visitors and participants with tools for assessing the credibility of media sources and resources for distinguishing facts from disinformation and misinformation.
In 2021, the workshops focused on topics related to climate and sustainability as well as health.
In 2022, the workshops were mainly focused on media literacy issues related to the war in Ukraine and COVID-19.
We have collected and analyzed the results of the project and we think it could be valuable information for people working with fake news or teaching media literacy or democracy.
We present the project's key insights, exercises, and different cases on fake news together with results from the project. We hope the results and insights will provide new knowledge on media literacy and demonstrate our learnings from the projects.
The Fake ≠ Fact Info Lab exhibition, is based on the Museum of Work's The Travelling Democracy Lab, which in turn originates from material by the Swedish Media Council.
The Fake ≠ Fact Info Lab is part of the toolkit Fake ≠ Fact, which is introducing source criticism in the classroom and which is available on Sharingsweden.se
Project partners
Danish Cultural Institute in Estonia, Latvia and Lithuania
Baltic Center for Media Excellence
Nordic Council of Ministers
Polltix
Human Rights Academy
The Swedish Embassy in Estonia
The Swedish Embassy in Lithuania
The Swedish Embassy in  Belarus
The Latvian National Commission of UNESCO
Swedish Media Council
Museum of Work