04 · 02 · 2021
Minecrafting Cities: Inclusive Urban Planning with Minecraft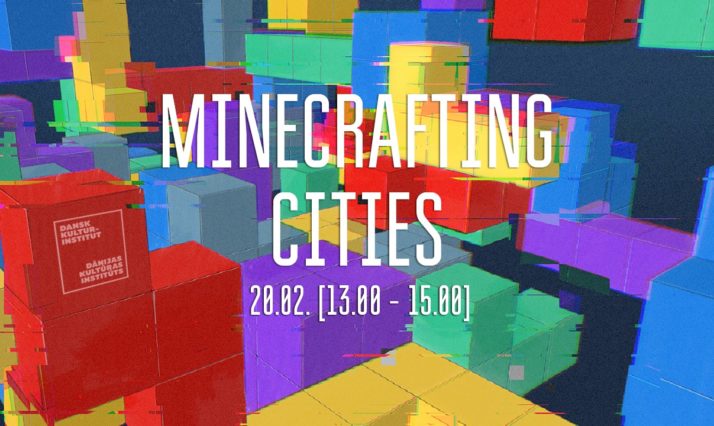 On 20 February at 13.00 to 15.00 EET, the Danish Cultural Institute in Estonia, Latvia and Lithuania, will host the online workshop "Minecrafting Cities".
The workshop aims to involve people in the creation of more inclusive public spaces, through the creative game of Minecraft. 24 participants, in collaboration with our team of experts, will enter in an open discussion about creative urban planning and will get to see their own ideas come to life in the 3D world of Minecraft.
"Minecrafting Cities" is created in collaboration with Kaņepes Kultūras centrs and Riga City Council, in connection with the "Spēļu Fest" which takes place the 16.-21. February, featuring online workshops, discussions, lectures and other events dedicated to computer games, board and other genre games, as well as gamification.
The Danish Cultural Institute in Estonia, Latvia and Lithuania would like to say a warm thank you to our co-organisers Kaņepes Kultūras centrs and Riga City Council for a great cooperation with this online workshop we co-hosted together, within the frameworks of Spēļu Fest.
Please read on to find the recording of and be taken through the highlights of the workshop.
Minecrafting Cities workshop resume
This workshop showed participants how to involve everyone in the discussion of urban planning, using Minecraft as an active tool in the process. Our experts Justīne Panteļējeva (urban planner and strategist) and Dagnis Samausks (urban planning engineer) showed us how to recreate real-life cities and involve us in the discussion of how our cities and shared spaces should look and work.
Sandra Konstante (graphic designer, artist and art teacher) gave an interesting presentation of how she uses Minecraft as a teaching tool, and how to get to know your own neighbourhood through a game.
The participants were given the task to recreate chosen parks in Riga, to make them more accessible and usable for certain groups of people. They could choose between a 10-year-old skater girl, a person in a wheelchair, a family of three and/or a group of tourists. They then discussed in groups what to change and what to build, and helped each other to create these new environments in Minecraft.
The results were very creative, and we were amazed at how much the groups managed to do in a short amount of time.
We would like to say thank you to our experts Justīne, Dagnis and Sandra, to the volunteers and to the participants for a successful workshop.
Illustration by Aigars Opincāns