29 · 07 · 2021
BETWEEN THE LINES / CHAPTER THREE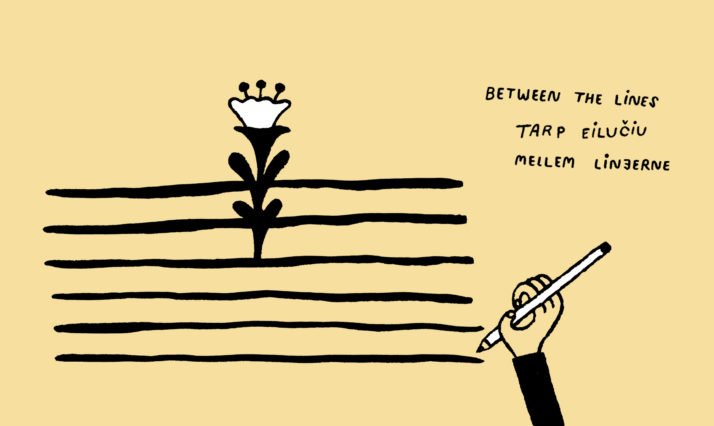 "[Her] style is sensual and direct, at the same time there are many layers in her poems. It is refined and sophisticated and at the same time powerful"
– Danish author Mette Moestrup on Aaiún Nin
On August 11th at 19.00 EEST/18.00 CET, the Danish Cultural Institute in Estonia, Latvia and Lithuania will finish its Baltic poetry tour with a trip to the Danish Embassy in Vilnius, Lithuania.
This time we have invited Angolan born poet and artist Aaiún Nin to join us. Aaiún Nin's work is rated highly by e.g., PEN international and the first book of the artist "På min huds sorthed" ("Broken Halves of a Milky Sun") is published by the end of this month. The book has already been sold to publish in the United States, Germany and Poland.
"People locked up at home, depressed and lonely have more chances to become readers of poetry"

Dominykas Norkūnas
Aaiún will be accompanied by Lithuanian poet Dominykas Norkūnas, recently published in Lithuanian literature and philosophy magazine "Punctum". The work of Dominykas Norkūnas has been awarded with prestigious prices such as the Dominik Urba Prize. His debut poetry collection is expected to be published in September.
During the event, you will have the opportunity to listen to live readings from their respective works, in the beautiful garden of the Danish Embassy in Vilnius.
After their readings there will be a discussion on their literary work and the challenges and themes that they each treat in their poems, where you, the audience, will have the chance to ask them questions.
𝐃𝐮𝐞 𝐭𝐨 𝐭𝐡𝐞 𝐜𝐮𝐫𝐫𝐞𝐧𝐭 𝐜𝐨𝐯𝐢𝐝-𝟏𝟗 𝐬𝐢𝐭𝐮𝐚𝐭𝐢𝐨𝐧 𝐢𝐧 𝐋𝐢𝐭𝐡𝐮𝐚𝐧𝐢𝐚 𝐩𝐡𝐲𝐬𝐢𝐜𝐚𝐥 𝐠𝐮𝐞𝐬𝐭𝐬 𝐦𝐮𝐬𝐭 𝐫𝐞𝐠𝐢𝐬𝐭𝐞𝐫 𝐚𝐭:
https://forms.gle/XRAzndZmSNfxnAn3A
The event will also be livestreamed to our international audience through our Facebook page and through the Facebook event.
For more information about our poets please read the articles below:
Dominykas Norkūnas and Aaiún Nin
Illustrations by Lote Vilma Vītiņa