22 · 08 · 2018
Latvia and Denmark launch TABFAB architecture competition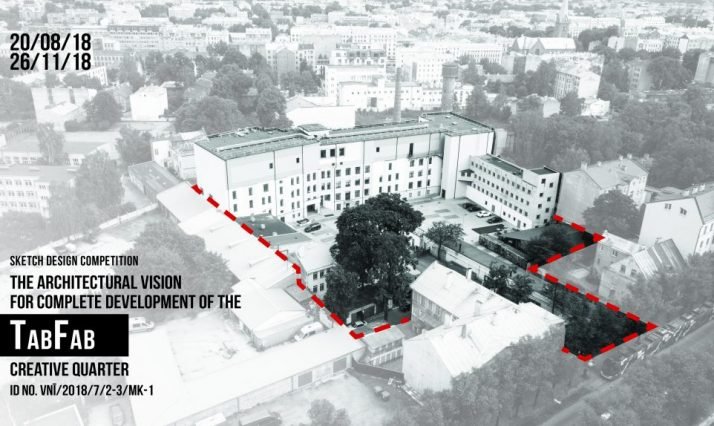 The open international sketch design competition for the TabFab Creative Quarter in Riga is officially launched!
The new TabFab project and architect competition are part of Denmark's contribution to and participation in the celebration of the 100th anniversary of Latvia's independence.
Riga's old tobacco factory (Riga Tabakas Fabrika), formerly owned by Scandinavian Tobacco Group, is being rebuilt and turned into a cultural centre, and all interested architects are invited to submit their vision for the new creative quarter.
TabFab will house an incubator for creative industries as well as artistic workshops and will be located on Miera iela 58a, right next to the Latvian Academy of Culture, the New Riga Theatre and other cultural institutions.
The project has been commissioned by the Latvian State Real Estate Agency in collaboration with the Latvian Ministry of Culture and Latvian Academy of Culture. Denmark's Ministry of Culture and The Danish Ministry of Foreign Affairs together with The Danish Cultural Institute supports the competition as part of the Danish contribution to the celebration of Latvia's centenary.
"When the Latvian Government came to us with the suggestion of cooperating on the TabFab Project in honour of Latvia's centenary, we were very enthusiastic" says Danish Ambassador to Latvia Hans Brask. "Denmark is a global leader in design and many other creative industries, so we have a lot to offer and at the same time Latvia has a lot to give us, thanks to its impressive entrepreneurial spirit and its outstandingly creative people within many fields. I am sure that architects' projects will form a perfect setting for continued cooperation between our countries in this area. I hope to see many Danish architects participate in the competition."
TabFab will be a unique exchange and collaboration platform for Danish and Latvian innovative players in the creative industries. Artists and entrepreneurs will work to intensify the creative co-creation between the two countries and produce new works – some art in themselves, some creative solutions to the challenges in today's society.
The hope for the architect competition is to see many inspiring and innovative proposals, reinventing an area that has long been synonymous with creativity and ingenuity. The competition winner will be a high-quality architectural solution, functionally well-developed as well as economically justified.
All proposals must be submitted by November 26th 2018, and questions and inquiries should be made by November 7th 2018 (including).
The competition organisers will host an event to visit the area on September 10th 2018. If participants would like to attend the event, they should register by September 6th 2018.
First place will be awarded a prize of 18,000 euros, and the winners will be invited to submit their proposals for participation in the Negotiation Procedure to obtain the right to sign the contract on development of the construction design and author's supervision.
Read more here: http://tabfab.metukonkurss.lv/?lang=en
And see the Danish press release here.
Denmark's official celebration of Latvia's 100th anniversary is coordinated by the Danish Cultural Institute in collaboration with the Danish Ministry of Foreign Affairs and the Agency for Culture and Palaces (Ministry of Culture).
If you have any questions, you are welcome to contact us.
Danish Cultural Institute
T: +371 67288221
Latvia and Denmark launch TABFAB architecture competition