10 · 03 · 2022
Inspiring Women: Laila Pakalniņa, a Latvian film director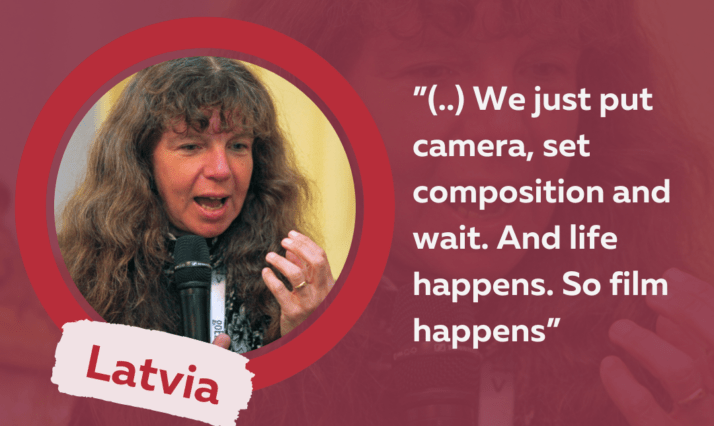 Laila Pakalniņa
"I call my method of work "Fishing in the river of time". As life is extremely talented, we just put camera, set composition and wait. And life happens. So film happens…"
Poetic depictions of border states
Latvian Laila Pakalniņa has created more than 41 films, as either screenwriter or director, in her 30+ years in the film industry: 31 documentaries, 5 short films, and 5 feature films – and more are coming. Many of her films had screenings on major international film festivals and have been winning awards and critical acclaim at many European film festivals. Like Pakalniņa's first feature film Kurpe (The Shoe) which was screened at the Cannes Film Festival in 1998.
The film, dedicated to her hometown Liepāja, is set in the 1950's in a Latvian coastal town, in which a woman's shoe is lost by its owner on a beach in a border zone following true Cinderella-like traditions. The film highlights the absurdity of the rules and the laws of people living in border states, and how it affects their lives and actions.
Soviet Latvia and post-soviet Latvia both features as important themes in Pakalniņa's long series of documentary films. She manages to intertwine a global view with personal, nuanced stories, resulting in poetic depictions of soviet values and ideologies, evoking thoughts and feelings of the viewer.
Irony is a repeated form of expression in Laila Pakalniņa's cinematography – with humor and ease she touches upon deeply relevant societal issues. In Karote (The Spoon) for example, the viewer follows the journey of a single plastic spoon from the moment the oil is extracted from the earth till the spoon ends its journey in the trashcan.
Only limited by imagination
The poetic stories of Pakalniņa, often with a touch of humor, unusual viewpoints and experimental camera movements and techniques, leaves the viewer with a difficult task of interpretation and reflection. The viewer is forced to question both the film and the world portrayed in it. For example, Pakalniņa often offers the spectator only the audio-side of the story and leaves important events of the film to happen outside of the frame and therefore leaves it for the viewer to interpret. This is how Pakalniņa, a strong person, central to Latvian culture, creates a room in which reality is not copied, but a room in which there is space for the viewer to use the imagination and add meaning to the film.
Want to meet more inspiring women? 
Follow this link to read about a Chinese woman and a Brazilian woman – both inspirational (Danish link): https://tinyurl.com/mv66spek