05 · 10 · 2021
GREAT TASTE- ZERO WASTE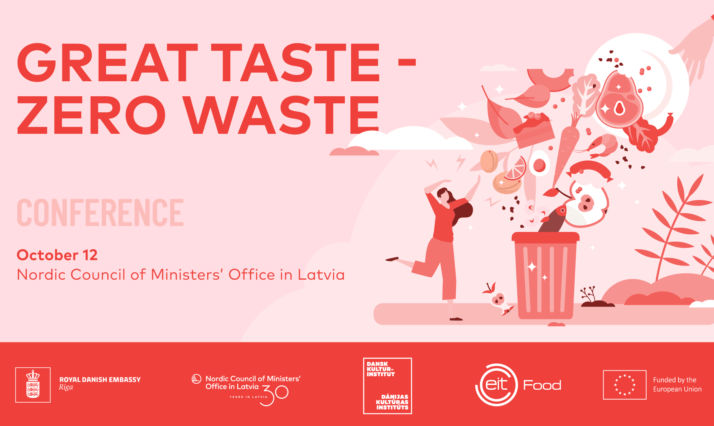 Much of what's considered food waste can be turned into a valuable resource – there's an urgent need for a paradigm shift in how the world views and deals with food. In the EU, approximately 88 million tons of food are wasted yearly with associated costs estimated at around €143 billion. While around 20% of the total food produced is lost or wasted, 33 million people cannot afford a quality meal every second day. Therefore, the fight against food waste has never been more important.
The Great Taste – Zero Waste event will be live-streamed from Riga, Latvia on October 12, promoting sustainable food culture and providing solutions to minimize food waste. The one-day conference will bring together experts and stakeholders from the Baltic Sea region working in the fields of gastronomy, food, and waste reduction.
The conference will serve as a knowledge and experience exchange between the Nordics, the Baltics, and Poland — countries with different historical backgrounds and experiences when it comes to reducing food waste and optimal use of resources.
"There is an urgent need to fight the increasing food waste problem by renewing and innovating our food culture into a more sustainable and creative one." – Simon D. Holmberg, CEO of the Danish Cultural Institute in Estonia, Latvia, and Lithuania.
During the event, leading researchers and environmental NGO representatives from the Baltic Sea region will share the latest findings on food consumption and food waste. Possible solutions will be presented by the EIT Food community and other experts. The event will conclude with culinary conversations by Polish, Baltic, and Nordic top chefs. The focus will be on specific methods for reducing food waste which the participants will be able to implement in their future daily work.
Before the event, the Danish social enterprise Rub & Stub will host a practical, hands-on masterclass on food waste reduction for chefs. The Great Taste – Zero Waste event also plans to create impetus for the Zero Food Waste Manifesto, an open document for chefs in the region to share their practices and ideas on how to work for the future of zero food waste.
The conference will be recorded and live-streamed from the Nordic Council of Ministers' Office in Riga, Latvia between 14:30-18:30 on October 12. The event is free of charge. A detailed program can be found here and the registration is now open.
The event is organized by the Nordic Council of Ministers Office in Latvia, EIT Food, the Danish Embassy in Latvia, and the Danish Cultural Institute in Estonia, Latvia, and Lithuania.