16 · 10 · 2017
Exhibition "Changing Mindsets" – Jan Gehl's life of work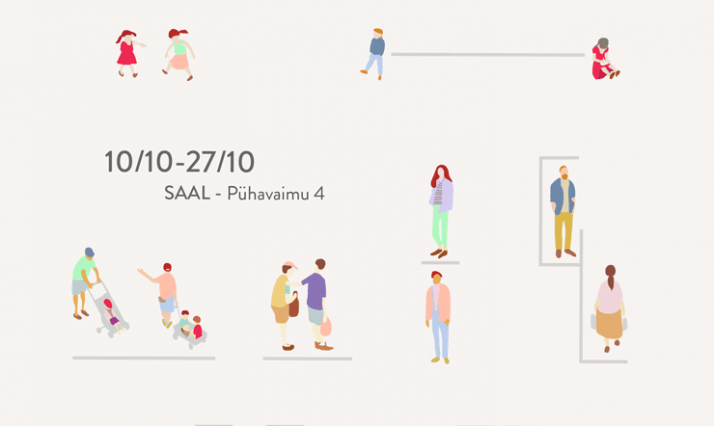 CHANGING MINDSETS
"If Jan Gehl didn't exist we would have to invent him so as to save our cities".
Jeanette Sadik Khan, former Commissioner of the New York City Department of Transportation
Changing Mindsets focuses on Jan Gehl's seminal work as a theorist, researcher and writer of human behaviour in an urban context. Gehl's approach is explicitly humanist and pro-urban, always emphasizing that cities must be designed for people rather than purely for logistic purposes, architectural bravura, or blind, simplistic economics. Good architecture is not just about form but about the interaction between form and life.
Throughout his career, Gehl has consistently developed his theory and methodology in an iterative process: testing in practice, systematically documenting, making gradual incremental improvements, then documenting them again. From Life Between Buildings in 1971 to the latest publication How to Study Public Life in 2013, his writing has gradually expanded as more research, experience, and examples from cities all over the world have been accumulated and integrated into the overall story on how to practice people-oriented architecture and planning that respects the human scale.
No matter culture, cities are places for human encounters, so their design must above all be about facilitating such opportunities. Cities should maximize the diversity of social exchange while minimizing travel needs, enabling people to enjoy life in public spaces, creating chances for people to meet accidentally and intentionally.
According to British architect, Lord Richard Rogers, "no one has examined the morphology and use of public space to the extent that Jan Gehl has. Anyone who reads his books will get a valuable insight into his astonishingly perceptive understanding of the relationship between public spaces and civic society, and how the two are inextricably intertwined."
"First life, then spaces, then buildings – the other way around never works"
Jan Gehl's work can be divided into three major phases:
1 – From the mid-1960's: research and theory development;
2 – Starting in Copenhagen in the early 1970's: developing and testing methodology in real-life projects;
3 – From the 1990's and onwards: Communication and expansion of methods and ideas through books combined with studies for cities across the globe.
In 1965, young architect Gehl travelled to Italy together with his wife Ingrid on a scholarship from The New Carlsberg Foundation to study the everyday use of public spaces and everyday public life in Tuscan and Umbrian cities, and in Rome. In their own words, they were "drawn in by the human activity between and in cities and towns that had not yet been reorganized by rational planners or invaded by cars".
The Gehls started to observe how and why places were working for people by recording specific details including the numbers and location of people sitting and standing and the number of pedestrians on various streets. Soon, the importance of the edges of public space became quite clear, with people clustering along them in the piazzas to rest and watch the daily activities. This use of edges is a theme in Gehl's research, to which he has returned again and again.
"A good city is like a good party – people stay longer than really necessary, because they are enjoying themselves"
In early 1966, the results of the Italian studies were published in a series of articles in Arkitekten, the Danish Architectural journal. At the time, the articles were considered rather exceptional because it was a novelty to include detailed studies of human behavior in an architectural context. Still, they laid the foundation for the rest of Gehl's work, both in theory and in research methodology.
Upon the release of Life Between Buildings in 1971, Gehl embarked on a period of international research and teaching, accepting invitations to be a visiting professor at overseas universities. Thanks to his many lectures and the extended English summary in the Danish book, his thinking and observations gradually gained international recognition. Between 1971 and 1978 Gehl would spend several long periods teaching and continuing his research as a visiting professor in various countries. He conducted research experiments, testing methods with groups of students at the universities where he lectured.
By the late 1980's, Gehl had realized a number of studies for Danish cities as a private consultant alongside his position with the Department of Urban Design of the School of Architecture, at the Royal Danish Academy of Fine Arts. These led to invitations by Oslo (1988) followed by Stockholm (1990) to do similar studies. Whereas the Oslo study was carried out as an academic study with lots of data, not unlike the school based studies, the Stockholm study marked a shift by providing "Recommendations" for future improvements together with its "Space" and "Life" surveys.
By 1993-94, this consultancy spread to Public Spaces Public Life studies for a number of cities in Australia and New Zealand, giving Gehl the incentive to found Gehl Architects – Urban Quality Consultants, with architect Helle Søholt as co-founder and CEO in 2000. During the past 16 years, the company has helped more than 200 cities worldwide to understand the different uses of space and the role of design for improving their physical and social environment.
"Nothing in this world is more simple and more cheap than making cities that provide better for people"
Still, it is in his writings that one can find Jan Gehl's thoughts and methodology most clear. The bulk of publications tell the story of a developing idea and its application to changing our physical built environment. Some books like Life between Buildings and Cities for People deal with basic research on how life in public spaces is influenced by the physical environment. Others, like New City Spaces and New City Life address the issue of how public spaces and public life are evolving as society changes. Public Spaces – Public Life, Copenhagen 1996 describes how spaces and public life in Copenhagen have developed over 34 years to become a space to inhabit and enjoy rather than just a point of passing. The methods on how to study public life in a modern city is further updated and enlarged into a toolkit in the most recent book, How to Study Public Life, in which the methods developed over the entire course of research over five decades are explained and placed in the wider context of methods to study how people interact with the built environment.
Gehl's books have been met with an unusual worldwide interest. Ever since Life Between Buildings was translated into English in 1987, all books, especially the two presenting the basic research, have spread far and wide across the world and are considered to be important and relevant bodies of text for any urban strategist today. Altogether, they have been published in more than 35 languages in an estimated number of 200,000 volumes as per October 2016.
As Jan Gehl puts it: "I was always more interested in changing the mindset – then someone else can change the cities."
Place:
Pühavaimu 5, Kesklinn, Tallinn, 10123 Harju Maakond, Eesti
If you have any questions, you are welcome to contact us.
Danish Cultural Institute
T: +371 67288221