01 · 12 · 2019
Conference held by WIFT in Lithuania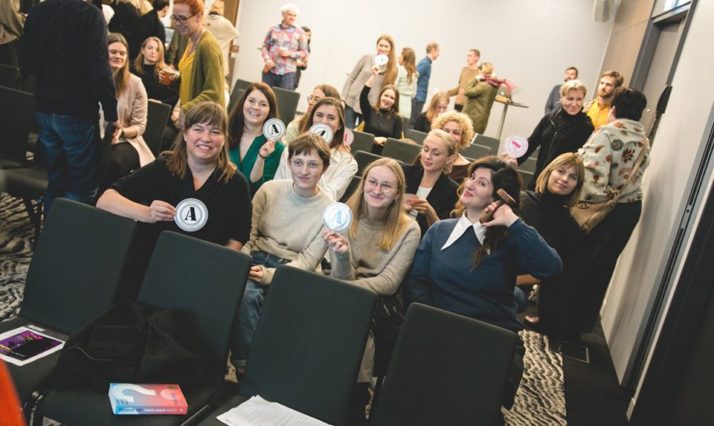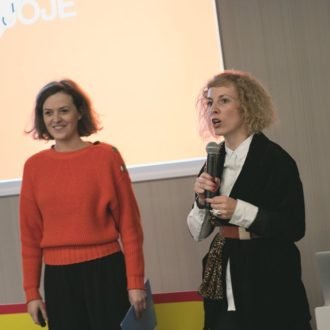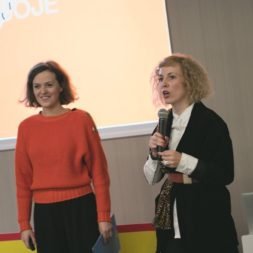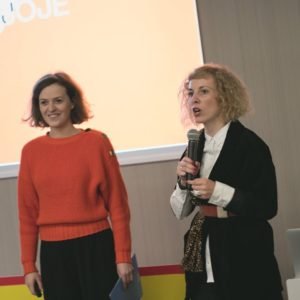 By Julia Tonsberg

Gender equality in the film and television industry is still a major European issue. Even though the industry is improving when it comes to its involvement of women both behind and in front of the screen, there is still a long way to go to reach a level of complete equality between men and women.
Therefore international organisations are continually raising awareness on this issue. In November 2019, Women in film and television Lithuania (WIFT LT) organised the conference 'Gender equality in Lithuanian film industry'. WIFT is an international non-profit organisation and at the conference also a Danish representative of the organisation, Katrina Schelin, attended. Katrina Schelin is also a part of POW (Power of women) Festival. In this article, Eva Brazdžionytė, member of WIFT LT and Katrina Schelin give their reflections on the current equality level in the Lithuanian and Danish Film and television industry, and their opinions on how to deal with the challenges still related to this topic.
Strong female characters in the pictorial medias matter
In Katrina Schelin's opinion there is one simple answer to the question about why we continually should focus on equality: that we still have inequality in Denmark, Lithuania as well as Europe in general. The gender balance in film and TV is unequal behind as well as in front of the camera, and in Schelin's opinion the pictorial medias are particularly important to put focus on, because a large amount of people are exposed to them. She believes that our thoughts about what is possible to dream and strive for in our lives are affected by the pictorial medias:
"The number of girls who join a football club increases remarkably when the national women's football team has been in television. Also, the interest in archery increased with 40 percent in 2013. What happened in 2013? That was the year Hunger Games reached the Danish cinemas. Therefore, it must mean something whether you see yourself represented on the screens and how you see yourself portrayed – is it in the role of the hero(ine) or in a supporting role?", asks Schelin rhetorically.
Like Schelin, Brazdžionytė also emphasises that it matters what kind of female roles we are exposed to and asks the question:
"if we, from our kids early years, show them very stereotypical content with princesses who do nothing but sleep and wait to be kissed or who rarely talk on the screen, how can we expect our kids to become presidents and parliament members later on?"
She links the fact that females are underrepresented in the Lithuanian parliament to the female representation in the film industry where they are rarely portrayed as strong, individual characters.
Besides this, Brazdžionytė puts focus on the discriminating and sexist comments women are often exposed to in the film industry. In a recent research about women in the Lithuanian film industry researchers found that most women don't consider their gender to have crucial impact on their career before they encounter particular awareness on their gender from the surroundings. This often happens through indirect discrimination and sexist remarks. Brazdžionytė doesn't blame the film and TV industry alone for being sexist, because she knows that the industry is also part of a bigger socio-cultural context where things have been practised in a certain way through decades.
Working actively with generating awareness on women
POW Festival hosts debates about how to generate change and inspire people to take action, but they also put focus on women by exclusively having female artists or female lead roles on their festival programme. In Schelin's opinion everything on the programme is of a very high quality and this proves that there is no contradiction between equality and quality.
At WIFT LT they work with community building among women by organising monthly meet ups and hosting an online knowledge sharing group. Brazdžionytė explains that one of their challenges is to find out what the most important issues to put focus on are in a Lithuanian context and to do it without burning out, since WIFT LT is a non-profit organisation.
Schelin and Brazdžionytė agree that progress is happening in both Denmark and Lithuania. For Brazdžionytė it is a question about how to boost the progress and make the development happen even faster. Schelin says that now consciousness about inequality has been raised among the gate keepers in the Danish film industry. They have started to open their eyes to the possibilities which also comes with greater equality. The Danish Film Institute has also become aware of its democratic responsibility as a public institution and the commercial agents that there is a request for the female point of view:
"TV series and the streaming services have played a major role here. Young women of today grow up with several possibilities to see different sorts of women represented in various kinds of roles – like men have been used to. This changes how we see women, but also how women see themselves. I don't think that the future female cinema-goer will settle with only seeing film made by men about men. Women have now gotten used to not having to 'translate' their gender to identify with the main character. In the same way I think we will see that young men get used to seeing films with a female main character without perceiving the film as a women's film".
Let's take time for female topics
About the event 'Gender equality in Lithuanian film industry' and it's meaning for the future work and international co-operation, both Eva Brazdžionytė and Katrina Schelin are very positive:
"It was clear from some of the first panels held previously that we need to have international experts who are more advanced in the topic and know how to approach it", explains Brazdžionytė and tells that in her experience the discussion tends to fall into a loop and that they are often being accused of discriminating men when putting focus on women:
"We have enough of male content in the media and in other channels. Let's take time for female topics and don't feel guilty about that and try to include more men in the conversation. For example having Mr. Simon Drewsen Holmberg from the Danish Cultural Institute as one of five male participants gave a very balancing support in the room. He helped explain the message to another gentleman in the room, because this sir was in a very defensive mood"
For Schelin, the international cooperation is also very valuable. She emphasises the aspect of knowledge sharing inherited in these kinds of events:
"Even though we have each our national characteristics and we can't just translate the praxis of others, it's always inspiring to hear how they work with the topic in other countries. You have to take what you find useful in your country and maybe you can even learn something from the mistakes of others. These kinds of meetings make you discover that you have allies in whom you can find support and you always stand stronger in a community than alone", says Schelin.
The Lithuanian research shows that during the Lithuanian independence period the number of women employed in the film industry has been growing in nearly all positions, including those that were once dominated by men: art directors, producers, screenwriters, directors. The only position where the number of women has been decreasing significantly is the position of an editor. Besides that, full length feature films are still regarded as the field where the number of women has been growing the most slowly. The situation of women in the Lithuanian film industry was gradually improving in 1996-2018; however, there are still a lot of spheres where gender equality has not yet been achieved.
Read the full research here.
Pictures taken by Brigita Beniušytė.
If you have any questions, you are welcome to contact us.
Danish Cultural Institute
T: +371 67288221