16 · 09 · 2022
Concert of Brass Band of the Royal Guards of Denmark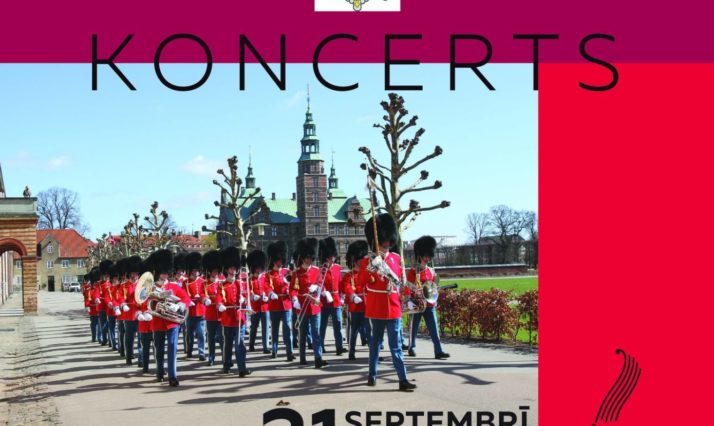 The Brass Band of the Royal Guard will visit Cēsis in Latvia and perform a concert as part of the Nordic Days on the 21st of September 2022 at 19.00 at Cēsis  Concert Hall.
This is the first time the Brass Band of the Royal Guard will visit one of the Baltic countries. The concert is a unique chance to experience a performance of exquisite musical handicraft while getting to sense the presence of history.
The Brass Band of the Royal Guard has been a herald of Danish history and cultural heritage for more than 350 years – the unique uniforms, with the distinctive headpieces, of the guards and musicians have become a symbol for the Royal House of Denmark all over the world.
The brass band is considered the oldest professional brass band in the world. It was founded in 1658 by King Frederik III along with the establishment of the Danish Royal Guard.
The greatest duty of the orchestra is to provide musical accompaniment at all events of the Royal House of Denmark: during the changing of the guard of honor at Her Majesty's residence, during state visits and official receptions, as well as during social or private meals.
The orchestra provides a nationwide concert service by performing not only classical, but also popular and jazz music repertoire. The Brass Band has performed concerts abroad several times and has in some years, performed in public as many as 174 times at various marches and concerts.
The concert in Cēsis will be the first and so far, the only performance of the Danish Royal Brass band in one of the Baltic Countries. The concert program is divided into two parts, including both serious samples of classical music and works composed in a light and entertaining manner, created by composers from Scandinavia, Europe, and America. The orchestra has also prepared some Latvian folk songs in brass band arrangement.
The Royal Guard itself, live by the motto: "Pro reget et Grege" – for the king and the people!
Get your tickets here for the VERY good price of 3 EURO
:
https://www.bilesuparadize.lv/lv/event/120789…
Read more about the concert at the facebook event
: