17 · 04 · 2023
Commons & Communities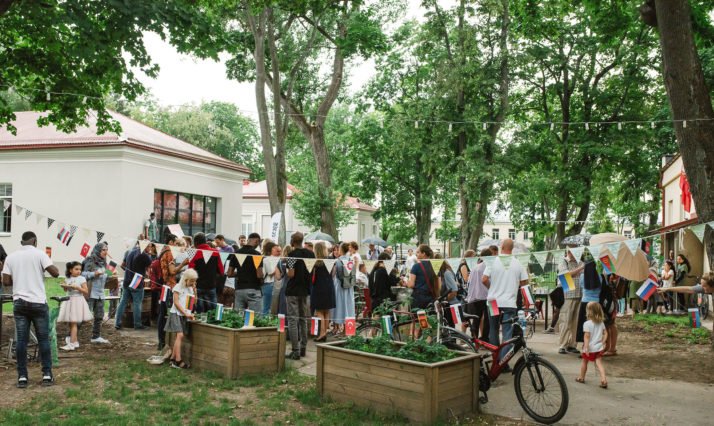 How can communities manage and preserve our shared resources? And how can art, architecture, and design strengthen our communities and meet the challenges we as a society are facing today?
We are seeking answers to these questions with the online platform, Commons & Communities. Here, artists, architects, sociologists, urban planners, theorists, and practitioners across disciplines explore new projects, strategies, and tools to understand and use the common goods, values, places, and spaces we share.
The project is based on a major Danish initiative and an exhibition developed by the Danish Arts Foundation's Architecture Committee 2018-2021. It takes place over two years across some of the countries, where Danish Cultural Institute is present: Brazil, China, Turkey, the Baltic States (Estonia, Latvia, Lithuania), and Denmark.
With the physical exhibition as a catalyst, discussions, exchanges, and collaborations on the themes are initiated, and examples of solutions and processes are included in the local exhibitions. This accumulative process culminates in an exhibition at the UIA World Architecture Congress in July 2023 in Copenhagen. At the same time, Copenhagen also receives the title of UNESCO/UIA World Architecture Capital.
Community and resource shortages
How we should manage and maintain our common resources is today a question that is becoming more urgent. Among other things, climate change, pandemics, population growth, and changing economic structures change not only our common resources but also the premises on which our society is built.
Every day we share resources: we share natural resources like the air we breathe and the water we drink. As residents of both big cities and smaller towns, we share our open spaces, architecture, parks, squares, and streets. All these resources form commons and communities = commonities.
However, the shared resources may be destroyed, misused, or overused if we neglect to develop and preserve them for the future. And then they confront us with a difficult question: who has access to our "shared" resources – are they really a shared good that everyone is able to enjoy?
This links the project closely to the UIA 2023 CPH congressional theme: Sustainable Futures – Leave No One Behind.
Art and culture at the core
There are also things we share that are not destroyed or disappear the more we use them. They rather grow by being shared. These resources are art and culture. Like knowledge, art and culture are not exclusive unless we make them exclusive. Rather, art and knowledge flourish the more we share them and seek to make them inclusive.
Therefore, new ideas on how we can live together and interact with each other need to be developed – through art, architecture, and design. These new ideas can thus point the way to change the political, economic, and cultural conditions.
Commons & Communities is designed to be shared and developed in unison with others. The physical exhibition is designed to be printed on an A3 colour printer and can be downloaded on the online platform. With the platform, Danish Cultural Institute is prioritising interaction between people. Audiences can comment on projects, which now also contain videos, etc. and local partners can collaborate and exchange ideas in the local 'Live Project Forum'.
Local and global perspectives
Using Danish Cultural Institute's deep anchoring and large networks in the countries concerned as the foundation, each edition of Commons & Communities will be created in collaboration with local partners in the local language and will focus on what is most relevant in that specific country. An exception, however, is that the Danish version will be in English, so the international English-speaking audience also can experience and follow the project.
The platform aims to strengthen local communities' commitment to transforming into a sustainable world and to raise awareness of local initiatives to be used for mutual inspiration on a global scale.
The project is supported by the Danish Arts Foundation.
Follow along at Commons & Communities