11 · 09 · 2019
Cabaret Musical wins Danish Communication Prize at BSD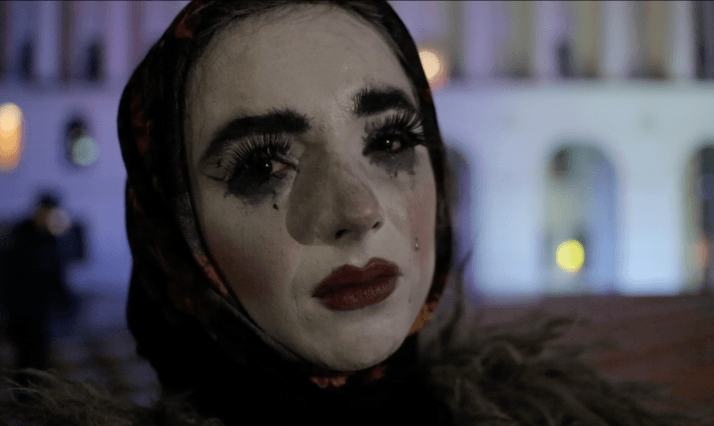 Roses is the title of an upcoming portrait documentary that follows 7 women in their daily lives as innovators and actresses in a Ukrainian cabaret band. This Saturday two of the creators of this documentary received a marketing award that will provide the opportunity to get professional marketing assistance from the Danish agency Have Communications. Director of DCI in Estonia, Latvia and Lithuania Simon Drewsen Holmberg handed over the award and in his speech, he emphasised that this documentary is a fascinating portrait of a theatre troupe of strong women. We met Film director Irena Stetsenko and producer Oleksandra Kravchenko shortly after they had received the prize for a talk about their musical documentary and the group they're portraying, the Dakh Daughters. 
The 23rd Baltic Sea Forum for Documentaries was held from the 3rd to the 8th of September 2019. It happened in Riga and included film screenings of new documentaries, workshops for documentary artists and pitches of upcoming work-in-progress documentary films for professional broadcasters. Irena Stetsenko and Oleksandra Kravchenko, respectively director and producer of the musical documentary Roses were one of the project pitchers. Their film portrays the Ukrainian female cabaret troupe Dakh Daughters living through the Ukrainian revolution, which broke out in November 2013, and the years of its aftermath. Stetsenko and Kravchenko aim to make an honest profile of the 7 actresses whose mission is to show cabaret as the art form it truly is. Dakh Daughters are taking cabaret back to its original expression as a sort of revue, underlining that cabaret isn't an erotic show, as the genre is often being linked to today.
Rooted in Ukrainian contemporary Dakh theatre
When Dakh Daughters appeared on stage for the first time in November 2012, it was just a year before the revolution broke out in the end of 2013. The initiative to form the troupe came from one of its current female members, who had always dreamed of being part of a cabaret. Stetsenko and Kravchenko stress, that the performers are actresses before they are musicians. It is the performers themselves who are getting most of the ideas for the shows. As a result of this, their performances are very theatrical, and the women in the troupe function both as performers as well as the creative power behind the productions. They do have a guiding director though; Vlad Troitsky who is responsible for the Dakh Center of Contemporary Art, the theatre where Dakh Daughters are based and where they've been working together for almost 10 years before forming their intellectual freak cabaret-band.
For Stetsenko and Kravchenko this theatre is a place of importance. They explain that the institution is prominent in the field of contemporary Ukrainian culture and this year, it celebrates its 25th anniversary. The Theatre is especially known for its project DakhaBrakha which have toured within Europe, thereby promoting Ukrainian culture across country borders. Dakh Daughters have also been touring in Europe and been on the programme at several international theatrical festivals. This has, according to Stetsenko and Kravchenko, made the troupe well-known across Europe. As the two filmmakers say, the Dakh Daughters are not like popstars, but quite popular, and very widely known within the theatrical environment.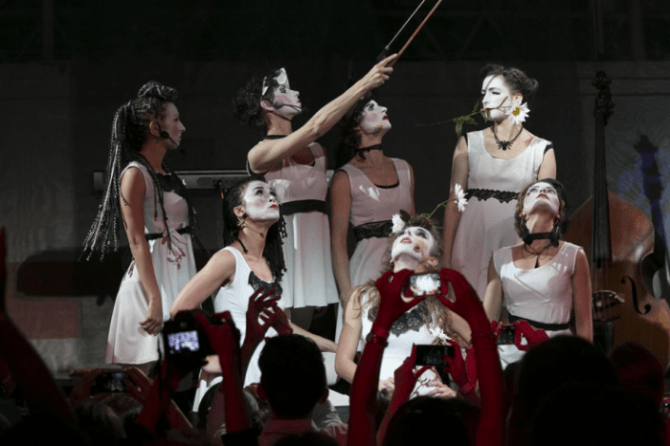 A question of both personal and professional commitment
The director of the film Irena Stetsenko has a background as sound producer and started working with the group in relation to this profession. In the beginning of 2013 she started filming the performers, when they had just settled as an actual musical-theatre group, and finished filming in 2018. The team behind the documentary began editing before they had finished shooting the movie. Now the editing has been going on for a long period of time and the team has had several different professionals involved in this part of the process. Irena Stetsenko, Mykola Bazarkin and Tetyana Dorodnitsyna are doing the final editing before finishing the film by the end of this year.
It wasn't a question of choosing, answers Irena Stetsenko to the question on why she chose to make a documentary about this group. The cooperation with Dakh Daughters came very naturally, since she had been working with the troupe as a sound producer. Stetsenko's husband, Serhiy Stetsenko, is a cinematographer and because of this, the two of them naturally started filming the troupe. When the revolution broke out, it became obvious to Stetsenko that this group had something important to show. The people involved in the process were connected both on a personal and on a professional level, and this, along with a desire to make documentaries, kept them all deeply engaged in the project.
Not a direct desire to be a feminist theatre troupe
Irena Stetsenko emphasises that the troupe's objective isn't directly feminist:
They're not feminist activists by choice. Just by being themselves, by performing their art so freely on stage without any additional special effort they just show really obviously and very believable that women are important, that women can act and that women can influence big audiences. Women can teach and educate people around them.
She also doesn't consider the troupe's focus on portraying cabaret in its original form to be a direct feminist struggle:
They just knew from the start, they have been well educated and therefore they just knew that cabaret is like this, it's not some men entertaining kind of thing. It's intellectual art driven by female energy and this is just what they do and simply by doing this they bring it back to its original meaning and concept, claims Stetsenko.
Stetsenko and Kravchenko tell, that Dakh Daughters did encounter reactions from audiences who got dissapointed by the form. While laughing a bit, they narrate about one time where a group of rich men and their beautiful female companions had bought tickets on the first rows expecting to see an erotic show. When they realised what the performance was really about they ended up leaving during the show.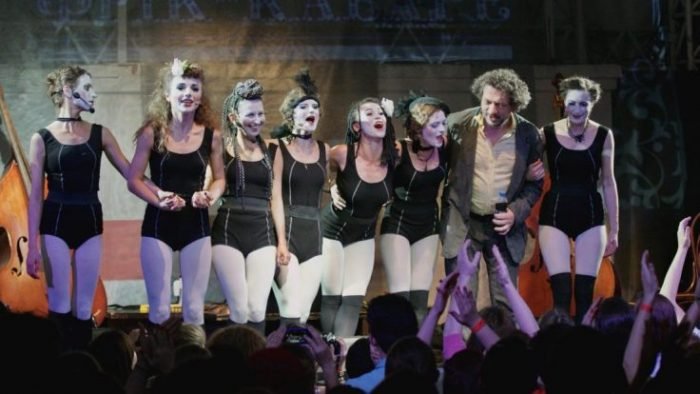 On feminist issues in Ukrainian society
Procucer Oleksandra Kravchenko thinks that the Ukrainian society remains deeply patriarchal even though on the surface it looks like the country has obtained equallity. In her opinion, women often choose to be martyrs who think they should bear everything on their shoulders. Besides, the notion of the career woman has emerged over the past 20 years, which has added more expectations to the societal role of the female. She states that the reason why society functions this way is due to lack of perspective and lack of visions:
Women of today are proud of being independent and strong. They are doing all the work, earning money and bringing up the kids. It might seem like they are really 'out there', but it has a downside, because they're bearing too much and do not always find a way to think about themselves as well, to express themselves creatively and to do exactly what they want with their lives. Society is putting this notion around women that they have to take care of the family, to raise the kids and care of the home – and these are all great things to do, but very often they are just taken for granted, says Kravchenko.
On the other hand, she stresses, contemporary Ukrainian film industry has a very strong female presence. There are many successful female directors – both of documentaries and features, producers, festival managers and industry professionals.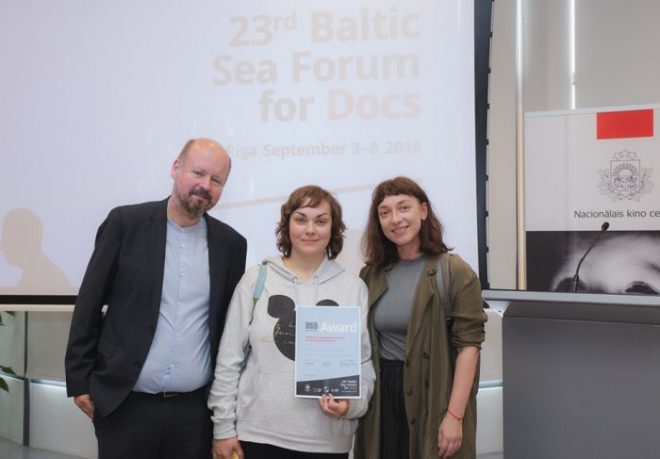 The team behind Roses hasn't yet been travelling a lot to promote their film. Attending the Baltic Sea Forum for Docs was just their second time outside Ukraine to present it to a wider audience. Therefore, they are very grateful that they have been given the opportunity to participate in this documentary festival as it has contributed with new perspectives in order to make their film more universal. Their dream is to be able to distribute it to a wider European audience, which is why they appreciate all the attention the film has been given, both the encouraging, optimistic words, as well as the constructive critique. Something that has been especially giving for them is the festival´s tutor programme.
With the prize for Have Communications the team behind Roses gets the opportunity to consult a professional marketing agency in order to develop a strategy targeted to market their film in the most efficient way possible. Have Communications has a long tradition for collaborating with the cultural field and often work very creatively and untraditionally with communication. Stetsenko and Kravchenko expresses that they are looking very much forward to get inputs from someone who has experience in marketing and can approach the film with fresh, as well as specialist, eyes. Their hope is that this award can help them take the right steps in order to broadcast the film to a wider audience.
Official teaser for Roses. Film – Cabaret.