26 · 05 · 2022
Duo Åstrand / Salo concert in Viljandi, Estonia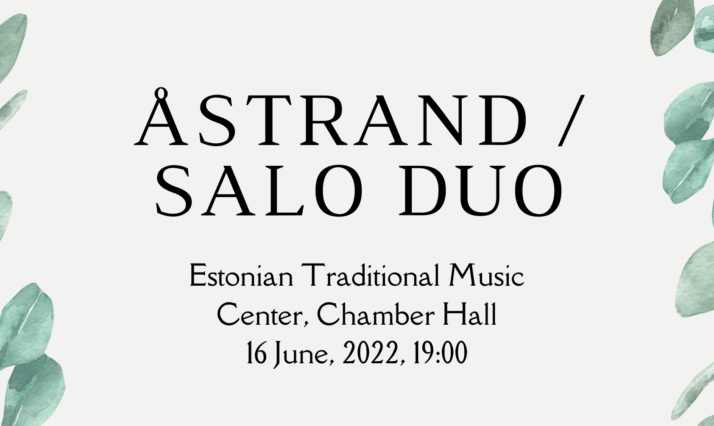 Two of the most highly esteemed Danish classical musicians are coming to Viljandi!
Åstrand / Salo Duo will play at the Chamber Hall at the Estonian Traditional Music Center on 16 June. In some version of the legend, it was in June in Viljandi that the Danish flag first fell down to the King over 800 years ago. Now, the Åstrand / Salo Duo will mark the occasion with an inspiring program which will include, among others, works by perhaps the greatest Danish composer, Carl Nielsen, as well as by the well-known romantic composer César Franck and of course the iconic Estonian composer Arvo Pärt (see the program below).
The Duo consists of violinist Christina Åstrand and pianist Per Salo who have been making music together for more than 25 years. Their repertoire ranges from the earliest classical music over the substantial romantic literature to the newest contemporary pieces. Åstrand and Salo's passion is the large repertoire for violin and piano, and they are known for their ability to create versatile programs in which the classical masterpieces are reflected in the Danish repertoire as well as in the lesser known music from the 20th century. Their concerts always have a main theme, and they love to tell historical facts and stories about the music.
Both musicians also have an extensive career as soloists. They both have positions in The Danish National Symphony Orchestra – Per as a pianist and organist and Christina as a concertmaster, a position she has held since 1993 from the age of 22.
Carl Nielsen (1865-1931):
Sonate nr.2, op. 35
Allegro
Molto adagio
Allegro piacevole
Arvo Pärt (1935 – ):
Spiegel im Spiegel (1978)
Sparre Olsen (1903-84):
Bygdevisur fra Lom (1949)
Percy Grainger (1882-1961):
Vermelandsvisa (fra Scandinavian Suite 1902)
Jean Sibelius (1865-1957):
Norden (1917)
Per Nørgård (1932 – ):
The Dunes
Homecoming
César Franck (1822-1890):
Sonate, A-dur (1886)
Allegretto moderato
Allegro
Moderato
Allegretto poco mosso